Exilis Ultra Femme is an advanced non-surgical vaginal rejuvenation treatment that uses radiofrequency to tighten and restore more youthful function to the vagina. This non-surgical procedure provides complete vaginal rejuvenation, including all-around tightening and labia reduction using a single device.
Vaginal discomfort can be a difficult topic to discuss, let alone seek out treatment for. This concern affects many women at some point in their lives but it is not a condition that they should have to live with. Reflections Center is proud to offer our female patients with this effective feminine procedure.
Exilis Ultra Femme Quick Facts
No pain or discomfort
No anesthesia needed
No downtime
Most Common Uses for Exilis Ultra Femme For Feminine Rejuvenation
Through the Exilis Ultra Femme treatment, the labia are tightened and raised and the diameter of the vaginal opening will shrink in size. Through this procedure, women notice an improvement in lubrication and, therefore, an increase in sexual satisfaction.
Feminine Rejuvenation
Rejuvenation of the vagina and the vulvar in its entirety are treated through the Exilis Ultra Femme treatment. The specific concerns it addresses include:
Lifting and firming of Labia Minora
Tightening of Introitus (vaginal opening)
Increased Blood Flow to Clitoris
Improvement in Stress Incontinence
Tightening of Perineum
Plumping of Labia Majora
Tightening of Vaginal Canal
Urinary Incontinence
Increased Sensitivity & Improved Orgasm
Recovery & Downtime: None
Numbing: Not required
Cost: $1,000 per individual treatment
Candidacy: Women who have lost vaginal tightness and decreased sexual function
Duration: Treatment is 20-30 minutes
When to See Results: Improvement after first session and every session thereafter
Why Choose Reflections Center For Exilis Ultra Femme
Reflections Center should be your first choice for vaginal rejuvenation. We use some of the most advanced radiofrequency equipment for this type of treatment to provide our patients with the best results possible. The Exilis Ultra Femme treatment is safe, effective, and timely. In addition to the innovative treatments we offer, our physicians have undergone extensive hands-on training for their vaginal rejuvenation techniques. Each physician in our practice has undergone a thorough assessment of knowledge and skill before joining our team. We are pleased to have some of New Jersey's leading cosmetic surgeons within the Reflections Center family.
If deemed fit by the doctor, she will work with you to build a custom treatment plan based on your exact needs and desires. We want our patients to feel at ease when seeking this treatment, knowing they are working with not only a female doctor but a mother too, who understands what you are going through. In some cases, you may be able to receive the treatment during the same visit. Our physicians work hard to provide all of our patients with the best results possible.
In order to determine if Exilis Ultra Femme is right for you, a free consultation is required. During this one-on-one meeting, the doctor will ask you about your concerns and what you are looking to achieve through this vaginal rejuvenation treatment. Once this has been discussed, the doctor will then evaluate any prior medical history, medications, and health conditions. Lastly, a physical evaluation will be performed to make the final decision on your candidacy.
Frequently Asked Questions About Exilis Ultra Femme
How many Exilis Ultra Femme treatments will I need?

The number of treatments required to achieve your desired results may vary from another patient because each person's body responds differently to the Exilis Ultra Femme treatments. Typically, our physicians recommend patients undergo at least three treatments to receive optimal vaginal rejuvenation results. A consultation is required to determine the number of sessions that you will need to achieve your aesthetic goals. Once an evaluation is performed, the doctor will be able to customize a treatment plan based on your case and the number of treatments you require.

What is Exilis Ultra Femme?

Exilis Ultra Femme is an advanced non-surgical vaginal rejuvenation treatment that uses radiofrequency to tighten and restore more youthful function to the vagina. This non-surgical procedure provides complete vaginal rejuvenation, including all-around tightening and labia reduction using a single device. The radiofrequency used in this treatment will stimulate the body's natural production of collagen to restore both the vaginal and vulvar regions to a more youthful and functional state.

Loose, excess labia tissue can cause discomfort when wearing tight-fitting clothes, during specific exercises, and during sex. The Exilis Ultra Femme procedure tightens the labia and shrinks the size of the vaginal canal. As a result of this treatment, patients have reported an improvement in natural lubrication, sensation, and it can make orgasms easier to reach.

In a recent study, the Exilis Ultra Femme procedures were well tolerated by all subjects with no incidence of adverse events. During the follow-up, 89% of subjects agreed or strongly agreed that their SUI condition improved, and 93% agreed or strongly agreed that gratification during intercourse improved. None of the subjects reported dissatisfaction with treatment.1.

What is the cost of Exilis Ultra Femme treatment?

The cost of each Exilis Ultra Femme treatment is $1000. This is typically sold as a package that consists of three treatments, at a cost of $3000, since that is the typical treatment series most patients require. Upon being evaluated by one of our physicians, you will have the opportunity to construct a personalized treatment plan based on your exact needs. To obtain your vaginal rejuvenation treatment, we encourage patients to contact Reflections Center and request a consultation.

How long does it last?

Because the Exilis Ultra Femme treatment is jumpstarting the body's natural production of collagen, the results are long-lasting. The newly produced collagen will create a stronger skin structure and help to maintain a more youthful aesthetic and better function. However, this treatment does not prevent the degeneration of vaginal and vulvar tissues. Patients typically need 1 touch up treatment each year to maintain their results childbirth and menopause will both negatively impact results in the long-term.

Who is an ideal candidate?

Good candidates for Exilis Ultra Femme treatments are women who are looking to rejuvenate the inner and outer workings of the vagina that have become problematic after childbirth or with the natural effects of aging. The typical age of our Exilis patients are in their 30's who have seen changes in their body due to aging or childbirth.

Patients should be in good health and have no underlying conditions that can negatively impact the effectiveness of the procedure. We ask that you maintain realistic expectations for the treatment because the results are not instant; they will continue to improve over the next few months. To find out of you are a candidate for Exilis Ultra Femme treatments, please speak with one of our helpful members of staff to schedule your consultation.
Planning For Your Exilis Ultra Treatment
The Exilis Ultra Femme treatment can be performed in about eight minutes. This is the fastest radiofrequency treatment available on the market today. As an added benefit, the device heats the tissue at a lower temperature than found with ablative lasers. This results in minimal risk.
Initial Part of Treatment
For the treatment itself, the physician will insert a disposable tip from the Exilis Ultra Femme handpiece into the vaginal canal. The handheld device uses 360-degree volumetric heating to stimulate collagen production within the canal. The doctor will gently rotate the device forward into the canal until the cervix has been reached. Once the tip of the device has reached the cervix, the doctor will rotate in reverse towards the introitus.
Second Part of Treatment
The tip of the handheld device will be changed for the second part of the treatment. This portion of the treatment will treat the outer vaginal tissues to tighten and raise the labial tissue to a more youthful position. The handheld device will be glided over the outer edges of the labia repeatedly until the treatment is complete.
Following Treatment Completion
Once the procedure has been completed, you will be free to leave the office immediately and continue your day as planned.
Because this treatment is quick and requires no downtime, it can be performed on a lunch break or before picking up the kids from school!
Downtime Duration
After the Exilis Ultra Femme treatment, patients will be free to return to their daily activities immediately after. Because this procedure is non-invasive and requires no form of anesthetic, there is no required downtime.
Following Treatment
After the treatment, you may experience mild redness and swelling in the treatment area for several hours. This is completely normal and will go away on its own.
Although there is no downtime for this treatment, it is advised by our physicians that women should avoid intercourse for at least seven days after their treatment to allow any swelling and redness that occurs to resolve completely.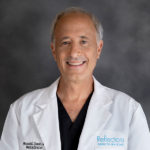 Dr. Mitchell Chasin built Reflections Center for skin & body as a place where physicians specializing in cosmetic medicine could focus on helping empower patients to feel their most beautiful. Dr. Chasin believes strongly that the best cosmetic physicians are those who are dedicated to mastering their craft through continuing education and collaboration with the industry's top doctors.