Xeomin is the newest addition to the neuromodulator family. This powerful anti-aging injectable has been used to treat lines, wrinkles, and other signs of aging for many years. Reduce the signs of aging with this subtle, yet effective injectable. Contact the Reflections Center nearest you and request your free consultation today. Xeomin is a neuromodulator that, when injected under the skin, reduces the look of lines and wrinkles. More specifically, these injections treat dynamic lines and wrinkles, which are caused by constant movement of facial muscles when making expressions. This causes the overlying skin to lose elasticity and begin to droop, resulting in the development of crows feet, smile lines, forehead lines, etc. Approved by the FDA in 2010, this injectable has become one of the leading anti-aging treatments on the market today.
Xeomin Quick Facts
Results for 3-6 months
Natural-looking results and facial expressions
Quick, 15-minute injection session
Most Common Uses for Xeomin Injections
Xeomin Injections For Facial Rejuvenation
Xeomin can treat a variety of areas on the face that are affected by the natural aging process and constant muscle contractions. These areas include:
Forehead creases
Sagging brows and heavy eyelids
Frown lines (also called 11's)
Bunny lines (from nose crinkling and squinting)
Horizontal lines under the eyes (typically formed when smiling, but will become permanent over time)
Overly gummy smile
Peach pit chin
Square jawline, jaw clenching, and TMJ
Because Xeomin, Dysport, and Botox are all used to create nearly identical results and all work in exactly the same way, we do not distinguish amongst them in our before and after photos. The gallery below shows how neuromodulators can be used to create naturally youthful and refreshed results for adults of all ages.
Recovery & Downtime: Mild redness and swelling for a few days.
Numbing: Topical anesthetic available
Cost: Discuss at your free consultation.
Candidacy: Men and women with mild facial wrinkles and fine lines.
Duration: 3-4 months
Why We Love It: Xeomin offers many cosmetic and health benefits.
View Patient Stories About Xeomin
"I have been going to Reflections for over 6 years now and I wouldn't think of seeing any one else but Dr. Chasin, he is amazing! "
View My Story
"people didn't know that I necessarily had any kind of special treatment done." Instead, they just shared compliments, saying things like "Mary Lou, your skin looks great. Did you go on vacation?"
View My Story
"No matter what I am having done, Dr. Ellern performs her work confidently and is always concerned for how I am feeling during the procedure."
View My Story
Why Choose Reflections For Xeomin Injections
At Reflections, we are known for our effective injectable treatments because you will only receive injections from board-certified doctors. Reflections Center has been awarded the Allergan Diamond Level Award for five years in a row and this is earned by the beautiful results we help each patient accomplish. Our physicians have even traveled around the country to train other physicians on safe and effective injectable techniques. We are highly skilled in a wide variety of injectables and fillers because we know that each product is best for different patients and different skin concerns.
Before receiving your Xeomin treatment, you will need to come into your nearest Reflections Center for a complimentary consultation with one of our cosmetic physicians. During this time, you will discuss with the physician what your aesthetic concerns are and your ultimate goals for this treatment. The physician will then examine your skin and determine if you are a good candidate for this anti-aging procedure. If you are deemed a good candidate, you will have the opportunity to schedule your treatment, as well as future appointments to maintain the results.
Frequently Asked Questions About Xeomin
Am I a candidate for Xeomin?

When people think of Xeomin or other neuromodulators, they most commonly associate it with women and men over the age of 40. However, this treatment can be used on patients as early as their 20's to help combat the starting signs of aging. This is because Xeomin can help reduce the appearance of wrinkles and also help to prevent them from worsening long term. For that reason, many patients in their 20's and early 30's will begin Xeomin injections as a preventative maintenance

What is the Xeomin treatment process?

Xeomin is a popular injectable treatment because it is fast and effective. This treatment can easily be performed during a lunch break or between running errands, lasting about 10-15 minutes from start to finish. We use ultra-fine needles for all of our injections to ensure accurate and safe treatment for every patient. The treatment itself is very tolerable; however, we do offer a topical anesthetic to be applied to the skin to ensure your utmost comfort during the injections. Our cosmetic physicians perform the injections themselves to provide you with beautiful, age-defying results. Once the physician has achieved your desired aesthetic, you will be free to leave our office and return to your daily routine without missing a beat.

What does Xeomin recovery look like?

After your Xeomin treatment, you may experience slight redness and swelling at the site of injection. This is very common and will dissipate on its own. To help prevent bruising after your treatment, we ask that you refrain from taking any anti-inflammatory medications, such as aspirin, and drinking alcohol immediately prior to the appointment. If bruising does occur, it can be easily covered up with makeup until it subsides, which can be immediately applied following your treatment. We also offer complimentary laser treatments that help break up bruises, to speed up the healing time.

There is no downtime for Xeomin injections, and you will be able to return to your daily routines right away. You should, however, avoid strenuous activities such as running or lifting weights for the first few hours. If you have any questions or concerns during this time, please feel free to contact our office to speak with a helpful member of staff.

You will be able to see the noticeable yet natural-looking results a few days after your injections, typically around day 5-14. It is recommended to undergo recurrent treatment every few months to maintain the results. The more regular and frequent you are about your injections at the beginning of your treatment process, the less product you should need to achieve the same results over time.

What does Xeomin cost?

The cost of your Xeomin treatment will vary depending on the extent of treatment you require and the number of areas you are looking to treat. We price Botox, Dysport, and Xeomin to ensure your price is equivalent to equivalent results. During your complimentary consultation, our cosmetic physicians will be able to construct a personalized quote based on your exact case. To obtain your quote today, please contact either our Livingston or Martinsville locations and schedule your consultation. We look forward to meeting you!

How does Xeomin work?

Through the use of very small amounts of a purified protein, known as botulinum toxin, you can improve the look of furrows, wrinkles, and lines on the face. This injectable reduces the signals between the nerves and muscles, softening repeated facial expressions, and preventing the damage that causes these dynamic lines to become deep-set and static wrinkles. This treatment is excellent for patients who are looking to remove the unwanted signs of aging without undergoing an invasive surgical procedure, as well as those looking to prevent aging and wrinkles.

What benefits can I expect from Xeomin?

Results will vary depending on the treatment location. Wrinkles on the forehead may become smoother, the brows more lifted, and lines around the eyes will soften and fade. Your overall facial appearance will appear more youthful and firm. The reduction of wrinkles and lines around the face will be noticeable, and the improvement typically lasts 3 to 4 months before requiring further treatment. Like Botox and Dysport, Xeomin is a form of botulinum toxin; unlike Botox, however, Xeomin contains no additives or other ingredients. Because of this, there are even fewer risks. This is because your body will not form antibodies to any of the additional components found in Botox. Once your physician injected the anti-aging solution under the skin, it will keep the muscles from contracting by blocking the verse signals that would normally cause them to contract. This will result in a smoother, more youthful appearance.

How does Xeomin work?

Xeomin contains highly diluted botulinum toxin type A, which is a widely used for both medical and cosmetic treatment and is the same protein as Botox and Dysport. This chemical solution affects nerve impulses and can be used in small doses to block muscle nerve activity. This works by temporarily blocking nerve signals to the muscles which will prevent the facial muscles from contracting when making expressions. Decreasing the intensity of muscle contractions will help soften the wrinkles on the face and avoid further lines from forming. Although this treatment is not a permanent solution to these signs of aging, recurrent treatment of Xeomin can provide long-lasting results.

How is Xeomin different than Botox and Dysport?

Xeomin, Dysport, and Botox are all different brands, and very slightly different versions, of the same molecule. They work in the same way: they reduce the repeated facial motions and expressions that create wrinkles. However, there are some very small differences between these products: For some people, these products take effect at different rates. It hasn't been proven to occur for all individuals. Some people are allergic to one brand of neuromodulator and find that using a different brand works just fine for them. We price all three of these products so that you would pay the same amount for the same result with each.

Are there other treatment options?

When looking for an alternative to Xeomin, there are two other neuromodulators on the market today. Both containing slightly different versions of the same protein molecule, Botox and Dysport are other treatment options to consider. Each patient is different and may require different treatment to achieve the desired results. In order to determine which treatment is best for you, please schedule your complimentary consultation.

What are the risks of Xeomin?

Although risks and side effects for Xeomin are very uncommon, It is critical to ensure that you are not allergic Xeomin or botulinum toxin, more specifically. Side effects may include asymmetry of the treated region or prominence of the injection site. These conditions are infrequent and, through the help of our expert injectors the chances of the side effects a significantly reduced. Our cosmetic physicians are highly trained to maximize patient safety and provide the most natural-looking results.

How long will my Xeomin results last?

The longevity of your Xeomin treatment may vary depending on how quickly your body metabolizes the solution. Typically, your results will last between three to four months before requiring additional treatment. This injectable is not a permanent fix for certain signs of aging, but through ongoing treatment, the results can be long-lasting. When coming to Reflections Center for your Xeomin appointment, you will be able to schedule your future appointments to help ensure you maintain your newly rejuvenated appearance.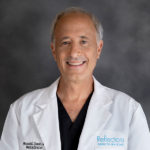 Dr. Mitchell Chasin founded Reflections Center for skin & body as a place where physicians specializing in cosmetic medicine could focus on helping empower patients to feel their most beautiful. Dr. Chasin believes strongly that the best cosmetic physicians are those who are dedicated to mastering their craft through continuing education and collaboration with the industry's top doctors.