Platelet injections and microneedling have become cutting-edge tools for restoring hair for those that have hair loss or hair thinning. Unlike prescription medications or hair transplants, Concentrated Platelet Therapy works to help your body reactivate its inactive hair follicles and grow brand-new hair with a thicker diameter, just like when you were younger, using cells from your own blood.
Reflections Center is dedicated to offering our patients natural-looking results using the latest scientifically-proven treatments. To understand the science of restoring hair, you need to first understand what causes hair loss. Once you understand what caused the hair to thin or stop growing altogether, then you can start to understand why some treatments will work, and others will not. To learn about the science behind hair thinning and hair loss, please visit our hair loss page.
Concentrated Platelet Injections For Hair Loss Treatment Quick Facts
Natural-looking results
Little to no downtime
Minimally invasive treatment
Combination of treatments for long-lasting results
Treatment Options Using Concentrated Platelet Injections For Hair Loss
Concentrated Platelet Injections
Concentrated Platelet injections have been shown to cause hair to grow more densely and more thickly in numerous studies1,2,3,4,5. This makes it a superior treatment for thinning and balding hair. Hair grafting therapy removes hair from one area and spreads it out, to fill in empty patches, but this often means sparse spread-out hair shafts. In contrast, these injections help more hair fill in the thin or empty pockets.
Hair Loss Treatment Using Micro Fat
Concentrated Micro Fat Therapy is not the same thing as Concentrated Platelet Therapy, although many people are confusing the two. Concentrated Platelet Therapy contains the growth and healing building blocks from your own blood, distilled down for a concentrated effect. Stromal cells haven't decided what type of cell they will be yet and are therefore able to become any cell your body might need. You do have stromal cells in your own body, even as an adult. They are most easily harnessed from the fat around your midsection using a process called Concentrated Micro Fat Therapy.
Many studies have shown that Concentrated Platelet Therapy and Concentrated Micro fat Therapy is very effective for both increasing hair thickness and for generating the growth of more hair1,2,3,4,5. That's why we're excited to offer our patients this ground-breaking treatment in both of our New Jersey offices, located in Livingston, and the Martinsville section of Bridgewater.
Results from Concentrated Platelet Injections For Hair Loss
Treatments at Reflections
Why Choose Reflections for
Hair Loss Injections Treatment?
Reflections Center has been New Jersey's top cosmetic clinic for over 20 years. Our team of dedicated cosmetic physicians practices cutting-edge medicine that helps you look and feel your best. Because we devote our entire practice to cosmetic medicine, we're able to master the nuances of these procedures and achieve the most natural and amazing results for our patients. Our physicians are determined to find the best treatment that fits your lifestyle, needs, and comfort levels and we have spent many hours researching the newest and best of these treatments.
One of these innovative treatments is Concentrated Platelet Injections for hair loss and we love the natural-looking, amazing results our patients receive from their Concentrated Platelet injections. These injections should only be administered by certified physicians with the experience and knowledge necessary to provide safe treatment. At Reflections, you will only be treated by a cosmetic physician who has an in-depth understanding of both the treatment and how your body will respond to it,
Free Consultations at Reflections Center
We offer complimentary consultations to all of our patients at the Reflections Center. We want you to have the time to discuss your needs and cosmetic goals with your doctor so that we can develop the best treatment plan unique to your concerns. Schedule your free consultation today by calling our office or filling out an online contact form.
How To Find The Best Hair Loss Injections Near You
Choose a doctor who is experienced with Concentrated Platelet Therapy (i.e. performs these treatments frequently and regularly): There are some very important differences between a physician who has the top-of-the-line platelet concentration tools and the experience to effectively administer the injections and those that do not. You want to pick a physician with the right skills, tools, and experience to get you the best results possible.
Frequently Asked Questions About Injections for Hair Loss
What do results for Platelet Therapy for hair loss treatment look like?

Concentrated Platelet Therapy harnesses the growth and healing factors from your own blood to help your body grow new, healthy cells. When injected into the scalp, it has been shown to grow thicker hair strands and more active hair follicles for denser, thicker hair overall.

What is the cost for this treatment?

Every patient will need a series of Concentrated Platelet injections to see the best results for hair restoration and growth. Our pricing reflects our desire to see patients complete the full recommended series so they can see the very best results. Typically, patients are recommended to undergo 6 treatments in their first year, so for those who commit to this plan, we offer a buy 5 get 1 free deal.

$975 or $1,375 for a single session (depending upon the size of the area treated)
$2,650 or $3725 for a package of 3 sessions (depending upon the size of the area treated)
$4875 or $6875 for a package of 6 sessions (depending upon the size of the area treated)

How many treatments will I need with injection therapy for hair loss?

Typically, we recommend a series of 3 treatments spaced 2-4 weeks apart twice in the first year (6 treatments total) and then repeated as a 3 treatment series every year thereafter. This treatment plan acknowledges that in order to maintain results, patients will need to fight continued hair loss throughout the future as well. We do offer great package-pricing discounts to help make this procedure more affordable.

We find Concentrated Platelet Therapy works significantly better when paired with Exosomes, Cellular Matrices and/or Concentrated Micro Fat for injection and when used as part of a multi-therapy approach. This approach is when the patient also uses medications and supplements to treat the underlying causes of hair loss to ensure the new hair growth stimulated by the Concentrated Platelet injections doesn't fall prey to the same issues that caused the other hair follicles to die off, as well.

When will I start to see results from my patients?

Patients can expect to see results developing around 3 to 4 months after their first treatment, which should continue to improve for the next 1-2 years. Hair loss is often a progressive condition, meaning it worsens over time. so we do recommend patients come back to re-treat every 6-12 months to combat any future hair loss.

What is the treatment process like?

After you and your cosmetic physician decide that Concentrated Platelet injections are the right treatment choice, the actual procedure will be very quick and easy. First, we'll draw some of your blood. Then, we'll use a specialized process to isolate and concentrate the growth and healing factors from your blood, creating the Concentrated Platelet Serum. Finally, the doctor will inject the Concentrated Platelet Serum into your scalp, using a very fine needle, to complete the treatment. The entire process takes about 30 minutes to complete so it's something you can easily squeeze into your lunch break or on your way home after work.

Is there downtime? Will anyone be able to tell I've had this procedure?

There is no downtime or recovery period needed after your Concentrated Platelet injections. You may have some redness at the injection sites, just like with any injection. This is usually very temporary and subsides quickly. Patients don't typically need to take any special precautions or camouflage the area to maintain their privacy about the treatment, either.

Is this treatment safe for me and my skin type?

Concentrated Platelet injections make the most of your own body's natural ability to heal itself, so it's completely safe for all skin types and hair types.

Will I need anesthetic or numbing?

No, you won't need to have any anesthesia or numbing for this procedure. We do offer numbing options for all patients but because this treatment is so quick and easy, it has not been something we've ever needed to use numbing for.

Will this treatment hurt?

Concentrated Platelet Therapy extraction and re-injection require a series of needle pricks but it is no worse than getting your blood drawn or Botox injections. We do everything we can to ensure our patients have the most comfortable experience possible and can provide anxiety-relieving options for those who feel uncomfortable with this procedure.

How do Concentrated Platelet injections work?

Concentrated Platelet Therapy, or plasma, comes from your own blood and helps the body heal from injuries while containing potent growth factors. In recent years, Concentrated Platelet therapy has been commonly used in medical aesthetics for the regeneration of the skin and hair.

People who are looking for natural alternative treatments for skin revitalization, as well as volume loss, scars, wrinkles, and uneven texture, are turning to Concentrated Platelet therapy. During your treatment, your surgeon will collect a few vials of blood from your arm which are then spun in the centrifuge to separate the plasma and platelet. This plasma-rich platelet contains growth factors which are then re-injected into the required areas of your body.

The many benefits of Concentrated Platelet therapy include tissue regeneration, collagen growth, and speeding up the natural repair process of your skin. It can be used on your face, arms, decolletage, back, scalp, neck, hands, legs, and abdomen.

How to get thicker hair?

With so many people struggling with hair thinning and hair loss today, there are several options available to deal with this socially crippling concern. An experienced physician will understand the cause of your hair problems before offering a combination of treatments to deal with it. Typically, an experienced hair restoration center will offer you a combination of medication, laser hair restoration and stem cell hair restoration in addition to other treatments that not only stop your hair fall or thinning but also boost regrowth with a thicker and fuller mane.
One of the most advantageous treatments, when you wish to get a naturally thicker hair, is the Concentrated Platelet therapy. Platelet Plasma or Concentrated Platelet injections together with microneedling activates the inactive hair follicles to grow new hair with a thicker diameter. This growth is completely natural since your own cells are used and no hair transplant is required with this hair restoration treatment. Stem cell restoration also offers results that are natural and long lasting with no downtime.

What is Concentrated Platelet therapy?

If you are facing hair thinning or hair loss, then Concentrated Platelet therapy together with microneedling has become a state-of-the-art tool for hair restoration. Various studies have shown that Concentrated Platelet injections for hair restoration leads to the growth of hair that is denser and thicker. That is why it has become a superior treatment for hair that is thinning and balding. When this popular hair grafting method is used, it only leads to sparse hair that is spread out since it transplants hair to empty patches.

Concentrated Platelet is platelets concentrated into a serum with plasma that uses the healing and growth factors from your own blood in order to grow new and healthy cells. When it is injected into your scalp, it leads to the growth of more active hair follicles and thicker hair strands. Another advantage is that your hair will return naturally to all the areas of the head, giving you natural results.

How can I regrow hair?

Most experienced cosmetic physicians use a combination of procedures like Concentrated Platelet Therapy with microneedling or medication regimens to help you with non-surgical hair restoration. Concentrated Platelet Therapy is one non-surgical hair restoration treatment that leads to dense and thick hair growth, and this makes it a beneficial treatment for hair showing the beginning signs of thinning or loss. Hair grafting transfers hair follicles from an area with sufficient hair, like the back of the scalp, to empty patches in the balding area. A combination of these treatments is a great option for both increasing the thickness of hair and for generating more hair.

Another non-surgical hair restoration method is stem cell therapy. These stem cells are usually collected from the fat around your abdomen and can be effective in hair regrowth. Since hair loss is a progressive condition, it is advised to re-treat the condition once or twice a year to maintain your results and prevent any future hair loss.

How long does Concentrated Platelet Therapy last?

When you are undergoing Concentrated Platelet Therapy without matrices, it's recommended that you undergo about 6 treatment sessions which are spread throughout the year. With these continued sessions, you can see your results from the treatment within 3 to 4 months from the first session. Your results will keep getting better over the next year or two. Hair loss treatments offer optimal and longer-lasting results when they are used in combination with each other. Your dermatologist will recommend the most suitable Concentrated Platelet hair loss combinations for you depending on several factors like the severity of your hair loss, whether it is hereditary, and the plateau phase of your improvement.

What are the benefits of microneedling with Concentrated Platelet?

Microneedling has been done as a skin treatment for decades. Microneedling has been traditionally used to treat acne scar, fine lines, wrinkles, skin texture, pore size, pigment issues, and loose skin. It is also called collagen induction therapy as it supports the natural production of collagen in the body. Collagen helps to keep skin tight and youthful looking. Microneedling with platelet-rich plasma helps to enhance collagen and elastin production. By combining the Concentrated Platelet Therapy treatment with microneedling. many patients say they've seen results faster. Microneedling and Platelet Therapy have both been used as hair restorative treatments. These two procedures combined can help:

Wrinkles
Uneven Skin Tone
Hyperpigmentation
Acne Scars
Thinning Hair
Hair Loss

Here at Reflections Center, we offer Concentrated Platelet Injections for hair restoration with or without microneedling, but the benefits of the extra collagen and elastin production can help patients see quicker results, plus your hair will be completely natural.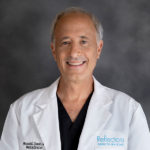 Dr. Mitchell Chasin built Reflections Center for skin & body as a place where physicians specializing in cosmetic medicine could focus on helping empower patients to feel their most beautiful. Dr. Chasin believes strongly that the best cosmetic physicians are those who are dedicated to mastering their craft through continuing education and collaboration with the industry's top doctors.