The Brazilian Butt Lift (BBL) procedure creates the ultimate silhouette transformation. Imagine removing unwanted fat from your stomach, back, and hips, and using that fat to create a more shapely, rounded butt. If you've been dreaming of a more balanced silhouette with perkier, feminine curves, BBL can help you re-contour your body.
Brazilian Butt Lift Quick Facts
Transform your silhouette
Board-certified plastic surgeon
Use your own fat for natural-looking and feeling results
Permanent Results
Augmenting Your Butt With Your Own Fat
Removing Unwanted Fat For A Sleeker Physique
The Brazilian butt lift procedure begins by removing unwanted fat throughout the stomach, hips, back, and occasionally, thighs. This helps create a sleek, fit physique and a nice contrast for your new curves.
This patient did not have a surgical BBL. Instead, she simply had fat surrounding her butt removed. This is where all BBL procedures begin (with liposuction), and then we use your fat to further augment your butt and contour your curves in the next step.
Harvesting & Processing Fat For BBL
The fat removed during the first part of the procedure is harvested using specialized cannulas that protect the fat cells from damage during the process. The fat is then processed to ensure only the highest-quality fat is transferred. It's important to remove the red blood cells and damaged cells from the collected fat, so that the body can focus on the survival of the transferred cells, rather than wasting energy detoxifying.
Red blood cells naturally trigger inflammation, since they're usually only outside of blood vessels when an injury has occurred. For this reason, it's important to transfer fat that is as free of red blood cells as possible. One of the best ways to ensure this is to use liposuction methods that create as little bleeding as possible. This can be achieved through tumescent liposuction with the Vaser or MicroAire PAL systems. You can also reduce blood flow to the treatment area by mixing in certain medications into the tumescent fluid.
Learn More
Using Fat to Sculpt New Curves
Most patients will want to not only sculpt the butt, but also recontour the hips and low back. It is not advised that you liposuction the back upper thigh during this procedure, because you want that area to be firm and intact to provide support and keep the newly injected fat cells from sliding down into the back of the thigh. This area could possibly be treated during a different session, or through an alternative treatment, such as Kybella fat dissolving injections.
Learn More
Why Choose Reflections Center for BBL
Board-Certified Plastic Surgeon with Over 20 Years of Experience
Dr. Fodero is a world-class plastic surgeon who not only trained at Yale Medical School and the #1 plastic surgery residency in the country at the University of Michigan, but has also won numerous awards from both patients and peers for his skill as a plastic surgeon.
A Team of Plastic Surgeons and Physicians Who Specialize in Less Invasive Treatments
There are many plastic surgeons who offer BBL these days, but very few also work in an office where non-surgical and minimally invasive options are provided, too. This unique point-of-view provides patients with access to all of the best-in-class treatment options – and having options to choose from makes you much more likely to achieve the results you want, within your budget.
Frequently Asked Questions About Brazilian Butt Lifts
Who's a good candidate for the Brazilian butt lift procedure?

Anyone who is generally in good health, but desires more shapely buttocks, and has extra fat can benefit from the Brazilian Butt Lift procedure.

How much fat volume can you add to my butt with BBL?

The amount varies person to person. Determining factors include: the elasticity of your skin in the area where the fat will be transferred to, how much fat can be harvested, and what will give you the aesthetic contour you are looking proportionate to the rest of your body.

How much fat can you remove from my unwanted areas during BBL?

This varies from person to person as well. During your consultation, Dr. Chasin can give you a good estimate of what would give your desired result.

What can I do pre-operatively to make sure my BBL procedure is a success?

We will provide you with pre-op instructions to help make your procedure a success. You will need to avoid anything that thins the blood for 2 weeks prior to the procedure, for example, aspirin, Motrin, vitamin E. If you bruise easily you can take an over the counter supplement arnica.

What can I do post-operatively to make sure my BBL procedure has the best results?

We will provide you with detailed instructions for your post-op period. The most important thing you can do is not to sit directly on your buttocks for long periods in the first 3 weeks.

How much time should I plan to take off work for a BBL procedure? How can I minimize the time I take off work for BBL?

This depends on your job. If your job requires a lot of sitting you may want to take 2 weeks off. If you stand most of the day at your job, you may be fine to go back after 3-4 days as long as you do not have to drive.

How long will my BBL results last?

Results are extremely long-lasting, and get better with time.

How much does a Brazilian butt lift cost at your office?

Brazilian Butt Lift starts at $8500, which includes liposuction of 1 area (most typically the abdomen/stomach), all surgical fees, compression garment, and pre-op and post-op care.

Can I finance my BBL?

Absolutely. Your cosmetic surgery is an investment in your future, so Reflections offers patients a variety of ways to finance that investment. We do accept most major credit cards, but we also offer specialty financing options that cater specifically to healthcare costs. Those options can be found on our financing options page.

Will BBL hurt?

There should be little to no discomfort during the procedure since you will receive some medication by mouth prior to being numbed in the areas where the fat is harvested and transferred.

How long does the BBL procedure take?

It greatly depends on how many areas will be sculpted to harvest the fat. On average, roughly 3 hours.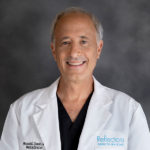 Dr. Mitchell Chasin built Reflections Center for skin & body as a place where physicians specializing in cosmetic medicine could focus on helping empower patients to feel their most beautiful. Dr. Chasin believes strongly that the best cosmetic physicians are those who are dedicated to mastering their craft through continuing education and collaboration with the industry's top doctors.